A big morning for Captive Minds today with the Massey Ferguson Antarctica2 expedition arriving safely at the South Pole replicating the historic expedition by Sir Edmund Hillary in 1958.
The PR and Expedition Logistics teams at Expedition HQ began this morning at 3am delivering key assets from the ice and preparing live streaming interviews around the globe.
Watch the live BBC interview with expedition leader Manon Ossevoort in Antarctica here: http://www.bbc.co.uk/news/world-30391165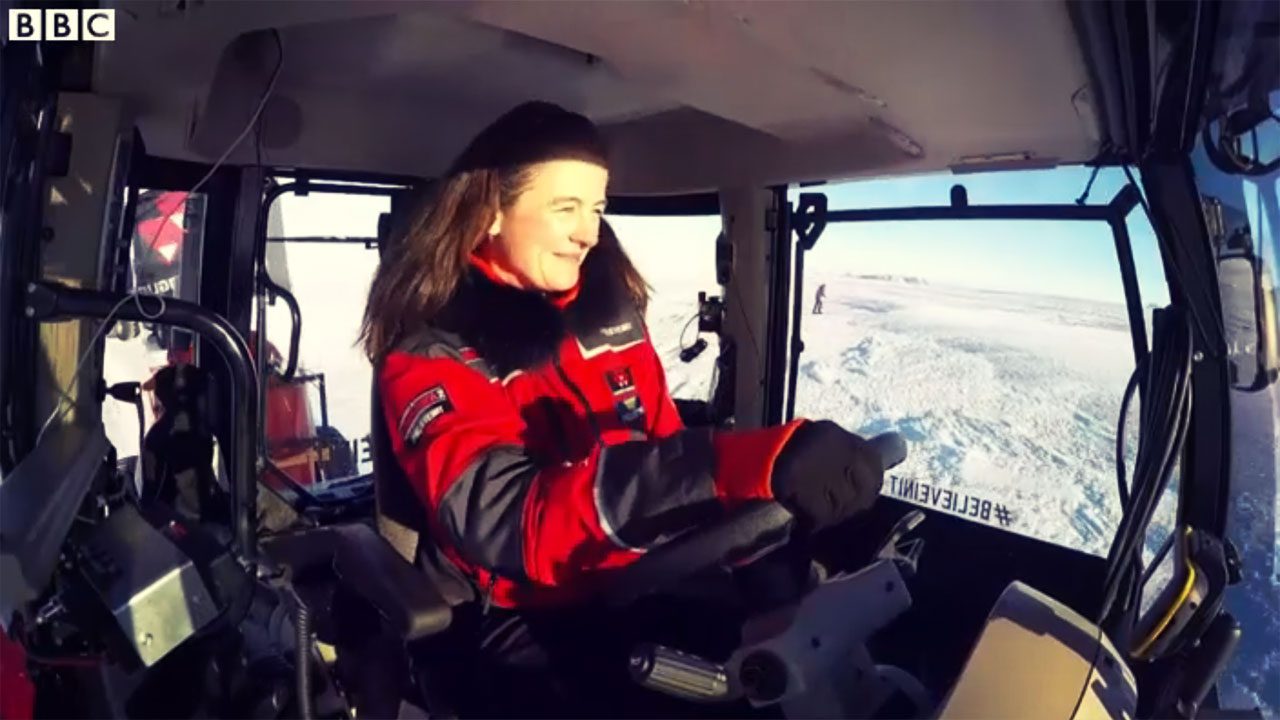 Full press release:
After 17 gruelling days in Antarctica, Tractor Girl Manon Ossevoort reaches South Pole aboard Massey Ferguson MF 5610 tractor
"Tractor Girl" Manon Ossevoort this morning saw her dreams come true as she reached the Geographical South Pole by Massey Ferguson tractor.
Reporting live from the ice, the team confirmed:
"04:30 hours CET. This is December 9th, Camp 17. After 17 days and 2,500 kilometres, we are at a red and white striped pole with a reflective ball on top, surrounded by flags. This is South 90 ­ as far South as anybody can go. It¹s unbelievable at the South Pole there is a red Massey Ferguson tractor! We¹re all ecstatic to be here and so proud to be taking our hero shots with the tractor that never gave us cause to doubt that it would be up for the challenge. Thank you all for your support."
The adventurous 2014 Antarctica2 expedition is halfway through the mission to drive a Massey Ferguson MF 5610 agricultural tractor from the coast of Antarctica to the South Pole and back – a journey of 5,000 km. In reaching the Pole, Lead Driver Manon Ossevoort and her team have emulated the first mechanised expedition to the South Pole by Sir Edmund Hillary in 1958 using Ferguson TE20 tractors.
Overcome with emotion at reaching her goal, Manon hugged the tractor when she arrived and celebrated with her team.
"Wow! I've made it!" said the 38-year-old Dutch actress and theatre-maker.
"It's such a beautiful feeling and I'm so grateful to Massey Ferguson to have made this possible. It's such a huge dream come true. To have dreams is beautiful but to see them realised is the most extraordinary feeling. I'm inspired."
The Antarctica2 expedition culminates Manon's dream to drive a tractor to the South Pole completing the final chapter in her journey that previously saw her drive a tractor 38,000 km from her home in the Netherlands across Europe and Africa to Cape Town.
"I found that my travels by tractor inspired others to talk about their own dreams, so I set about collecting these dreams with the goal of taking them to the South Pole with me," she said.
Manon built a snowman to mark the safe delivery of those dreams and the end of her journey.
"I want people to believe in the power of their dreams to know that with grit and determination, you can achieve your aspirations. I had the seemingly impossible dream to drive a tractor to the South Pole. You just have to believe in it."
This final leg of her journey was brought within reach when Massey Ferguson sponsored her with an MF 5610 tractor.
In a challenging 18 days across the ice, the team has travelled in constant daylight, working through 30-hour days to cover 23 hours or more driving at a time and only breaking for maintenance or driver changeover. Facing hostile Antarctic conditions including crevasse fields, punishing sastrugi (solid ice-waves) and solar storms, the team has coped with altitude sickness and temperatures of -56 degrees C with wind chill. Both man and machine have come through the challenges, proving their resilience and reliability in this extreme environment.
Richard Markwell Vice-President and Managing Director, Massey Ferguson, Europe/Africa/Middle East, said: "We have been gripped by Antarctica2's adventure across the ice and over some of the roughest terrain on the planet. Congratulations to the whole team! It's an immensely proud moment for Massey Ferguson and everyone associated with our farm machinery."
After a day's rest at the South Pole, the Antarctica2 team will embark on the return journey to Novo Runway on the Antarctic coast. They will follow in the exact tracks of their outbound trip, which, now having iced over, should speed up their return journey. With luck, Manon could be returning home for her 10-month-old daughter's first Christmas.
Together with Massey Ferguson, Antarctica2 has enlisted the help of leading industry partners including Trelleborg, Castrol, AGCO Finance, AGCO Parts, Fuse Technologies and MechaTrac.
Expedition Ambassador and Lead Driver, Manon Ossevoort, is supported by an expert team on the trip including polar explorers Matty McNair (Expedition Lead Guide ) and her daughter Sarah McNair-Landry (Expedition Guide and Audio-Visual Support), Nicolas Bachelet (Lead Mechanic) and Simon Foster (Creative Director and Audio-Visual Lead). Expedition specialists, Arctic Trucks are providing guidance and safety support.
You can follow the team's return trip at www.AntarcticaTwo.com and #BelieveInIt