By Sarah Little
Adventure Projects Manager
Whopping mistake or a campaign with purpose?
With a Facebook call-to-action, Burger King challenged McDonald's to lay their differences aside and come together for World Peace day via a limited edition 'McWhopper'. Ingenious? Perhaps. Well-designed? Definitely.
Their post looked a little something like this: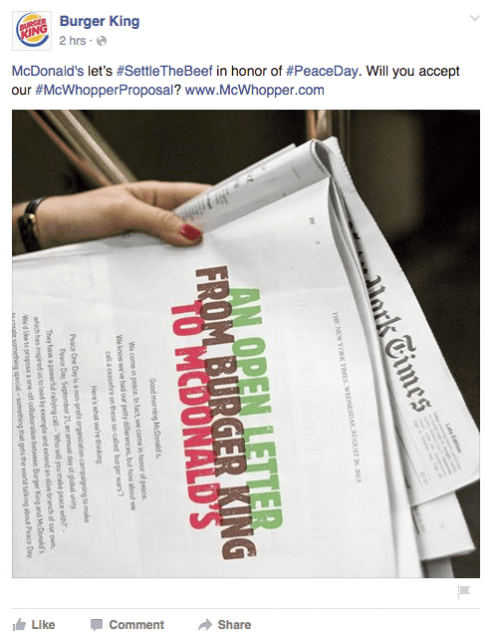 They launched a Tumblr. They changed their Facebook cover image. They had high hopes.
Within an hour, they had their answer: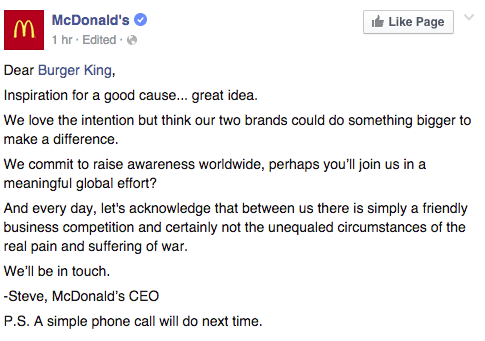 Ah.
So, were McDonald's right to refuse the challenge as it stood? Were they too quick to turn down what could be a sincere approach to peace? There's certainly two sides to every stunt.
McDonald's have spent recent years working hard to follow in the footsteps of brands like Coca Cola to establish themselves as a step above the rest when it comes to their responsibility to the world around them – Burger King's insinuated suggestion that peace can be represented through two burger joints coming together smacks of a naivety that McDonalds clearly don't want to associate themselves with. World Peace through burgers? Banksy would have a field day.
McDonald's have a corporate tone as a nod to their audience that they understand their impact, an appreciation of the effort and the idea, a hint of a put-down and an invitation to talk further on their own terms.
From an outside perspective, it could be said that Burger King never meant it to be more than charitable fun – a coming together of rivals to shed light on the real struggles people face, through a little ingenuity. An idea that peace is so important, it can set aside even the biggest differences. And McDonald's went corporate all over it.
No matter what your thoughts, Burger King presented an open challenge firmly believing it would be win / win for them. McDonald's says yes, and they have a PR stunt as never seen before. McDonald's says no, and their biggest competitor looks to be shunning peace in favour of rivalry. Win, absolute, win. Burger King backed them into a corner and McDonald's had to phrase their answer carefully.
What happened in reality was that Ronald McDonald made Burger King look like a petulant prince, throwing fancy animations at a serious world issue. McDonald's shot them out the sky with a response that showed not that they rejected the terms of the challenge due to their own ego, but that they cared too much about peace to accept them.
Behind the bravado, McDonald's may well have been too careful and shown a chink in their armour. They may have suggested they're afraid. Afraid of Burger King? Not at all. Afraid of collapsing the kingdom they're working so hard to build in a world switched on to meaningless stunts and corporate world destruction? Absolutely.
All we know for sure is that in the days leading up to World Peace Day, these are the two brands to watch.
Tell us on Twitter @CaptiveMinds what you think.