The Brief
Manage a private screening of An Inconvenient Sequel: Truth to Power for Ellie Goulding and her personal guests.
The Results
Attendees: Ellie Goulding & 20 Private Guests at the Bulgari Hotel, West London.
Ellie Goulding is a keen climate change campaigner and sought to arrange a private pre-release screening of An Inconvenient Sequel: Truth to Power for her close friends. Captive Minds were asked to organise the event on behalf of Paramount Pictures and Ellie Goulding.
The resulting evening was a close-knit event in a private cinema at the Bulgari hotel. Management of publicity for the event was handled in a manner that allowed for Paramount to collect assets for use when the film was released, whilst maintaining the private, personal purpose of the screening.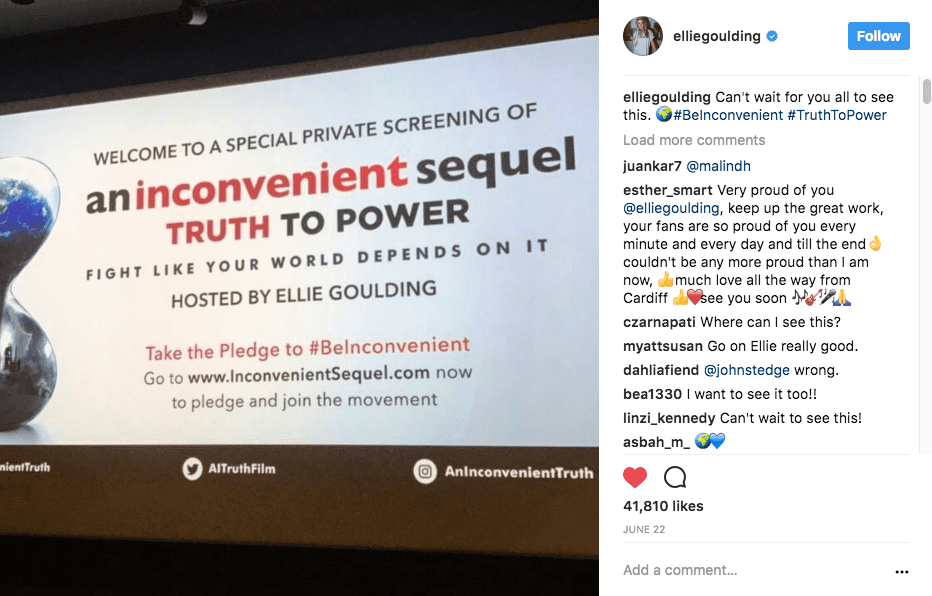 Every effort was made with hotel arrangements to honour the message of the film: leftover food was allowed to be taken home by staff members, napkins were kept to an absolute minimum, recycling was thoroughly organised by the hotel and straws were not supplied in drinks unless specifically requested, amongst other eco-sensitive measures.
Ellie and her guests thoroughly enjoyed the film, conducting a spontaneous discussion afterwards to share thoughts and ideas for action.